Travel information
Favourite destinations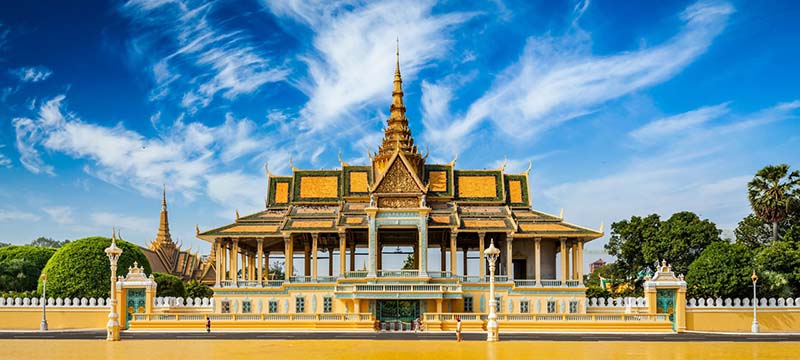 Phnom Penh
When you hear the word Cambodia, you probably think of Angkor Wat. There's much more to this small Asian country, though, and discovering the capital is the best place to start. Read on for our recommendations on the top reasons why you should visit Phnom Penh!
Phnom Penh's Central Market, or Psar Thmei as the locals call it, sits inside an impressive art deco inspired domed building. All sorts fill the market stalls - from gold to fresh food! The market opens from early morning until the early evening. It's the perfect place to pick up some Cambodian souvenirs. Perfecting your bargaining skills in the city's most famous market is a great reason alone to visit Phnom Penh.
Diverse and cheap, Cambodia's food shouldn't be missed. Although a lot of the menu's are borrowed from neighboring Thailand, several of Cambodia's own dishes are also worth trying. The most famous dish is Amok, which can be prepared with both fish or chicken. Cambodia's many markets are also filled with food for sale. Everything from fresh vegetables and exotic fruit to fried crickets (which are eaten like potato chips) can be found for sale in the stalls and in the carts lining the streets.
The Cardamom Mountains, in the northwest of Cambodia, are one of Southeast Asia's most species-rich and intact natural habitats. One of the largest remaining rainforests in the region, this unique tropical jungle was relatively unvisited until recently; however, there are an increasing number of companies offering camping, kayaking, cycling and hiking tours here.
During the rule of the Khmer Rouge millions of Cambodians were oppressed and killed. All the citizens of Phnom Penh were exiled from the city and sent to work back breaking hours in the rice fields. Anyone who opposed the regime was arrested and forced to confess their "crimes." Afterwards most of these prisoners were killed and buried in mass graves.
Visiting the Killing Fields, which are just outside the city, and the S21 prison provides great insight into this very recent tragedy. No visit to Phnom Penh is complete without the perspective gained from these experiences.
Signature fish (amok) and beef (lok lak), crab and Kampot pepper – plus the mass of noodle and rice dishes that are eaten on a daily basis – make exploring the flavours of Cambodia a foodie nirvana. A range of food tours and cookery classes are available to take you on a journey through the tastes of the kingdom. Feeling adventurous? How about sampling popular snacks such as deep-fried tarantula, crickets and other local grubs?
If you like to drive a hard bargain, then get your haggling hat on and head to the nearest market. Central to life in Cambodia, they start early in the morning as locals clamour to buy fresh food for the day. But it's not jsut about food. Russian Market, Central Market and BKK1 Market in Phnom Penh flog clothes, souvenirs, music and DVDs as well as household goods and even vehicle parts. In Siem Reap, Angkor Night Market and the Old Market are hot spots.