Travel information
Favourite destinations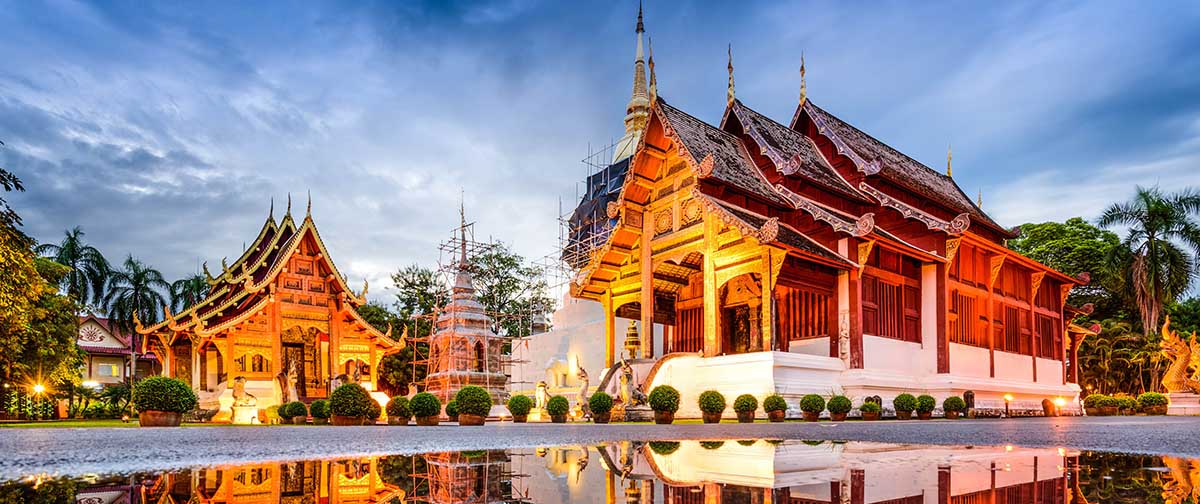 Chiang Mai
Chiang Mai is a city in mountainous northern Thailand. Founded in 1296, it was capital of the independent Lanna Kingdom until 1558. Its Old City area still retains vestiges of walls and moats from its history as a cultural and religious center. It's also home to hundreds of elaborate Buddhist temples, including 14th-century Wat Phra Singh and 15th-century Wat Chedi Luang, adorned with carved serpents.
f you are planning your visit to Chiang Mai, plan in November. Yi Peng Lantern Festival takes place in November every year and attracts a large number of tourists and also the weather is cool in November. People release thousands of lighted lanterns in the sky while making a wish and it is a magical time to be in this city.
If you are a historian or love visiting historical places, Chiang Mai is your city. It is over 7 centuries old and has temples that date back to the 13th Century. Most popular among them is Wat Phra That Doi Suthep. It is one of the best tourist attractions, can be approached by hiking up the mountain or renting a motorbike. Lanna Folklife Museum is also worth visiting where you can historical artifacts of Lanna tribe on display.
Getting a Thai massage is a must while visiting the Kingdom, and one of the cheapest places in which to do so is in Chiang Mai. Whether you are sore from carrying around a backpack larger than you are or simply want to see what all the hype is about, there is a massage parlour for every traveller to the northern capital. Some spas even double as social enterprises, so you can feel good about all of the twisting, stretching, rocking, and pulling taking place at the hands of your massage therapist.
Chiang Mai offers cheap shopping and nightlife as compared to Bangkok. It has night markets where you can roam around and buy local products at cheap rates. You can visit Gate Market for cheap traditional food.
With a city equipped with over 300 temples, 30 of which are in the Old City alone, it may seem like a no-brainer that one of the top reasons to visit Chiang Mai is to frequent one of these incredible religious structures. Monks are happy to explain their lifestyle and the Buddhist principles that they live by at many of these, as well. Chiang Mai is also home to one of the most renowned temples in all of Thailand: Wat Phra Doi Suthep.
Thai food greatly varies from region to region. The spicy curries you finally got accustomed to in Southern Thailand are entirely different than those curries found in Northern Thailand. Laos and Myanmar played a large role in the staple dishes of the northern region, as the country is bordered by both of these countries. The unique climate also plays a part in the particular dishes this region is renowned for. Because it is cooler, an array of different herbs and vegetables are able to grow here and nowhere else in the country. Thai dishes are less salty, lack as many seafood options, and are known for being more bitter and sour in the north. Sticky rice plays a large role in the diets of locals living in Northern Thailand as opposed to white rice.
Chiang Mai may not be a beach destination but it overflows in natural beauty – rainforests, majestic mountains, water sources, indigenous flora and fauna, conservation areas, and protected parklands. A beautiful city surrounded and embraced by nature, Chiang Mai is truly a slice of heaven in Thailand.