Travel information
Favourite destinations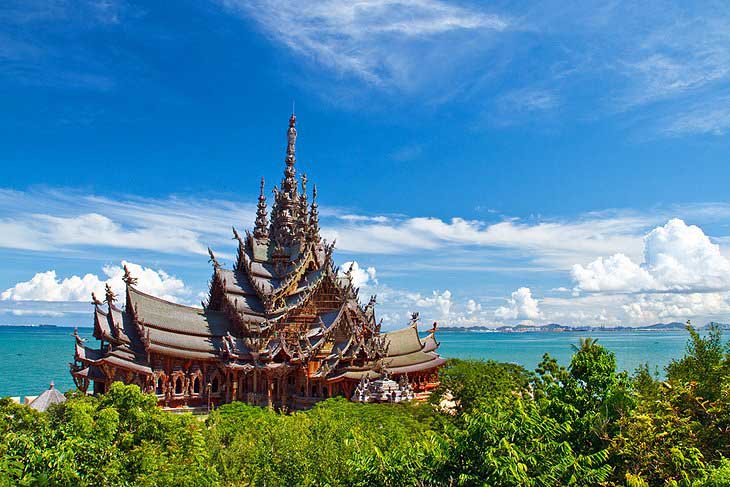 Pattaya
Pattaya, just a mere mention of this place gets people grinning. And why not, it's a place where you get to do whatever you want, it's a happy place, for everyone. This city has its own charm, cheerful vibes and a relaxed atmosphere. No wonder it's considered to be one of the top tourist destinations in the world!
The Pattaya area of Thailand's eastern seaboard is host to a beguiling range of attractions. The range includes anything from ancient Thai traditions to modern adventures. You can find the simple pleasures of the nation's most lively party street or be humbled by unique religious treasures. Explore nature, art, science and culture in ways you would never have imagined. Enjoy the raw beauty of the rainforest canopy or the glitz and glamour of the cabaret stage.
One of the best reasons to visit Pattaya is to enjoy its crazy nightlife. As the sun sets, this place turns into the dream destination for party lovers. The lively atmosphere which takes place at night is an important reason why many travellers visit this place. There are thousands of bars and many other activities that will make the party goers night wild. There are many resorts that sell gourmet restaurants and cocktail units that are cheap and very accessible. For family entertainment they have a stretch of night bars and karaoke stations.
The floating market of Pattaya is one of the best reasons you should visit Pattaya. This place is divided in four portions that represent the four different parts of Thailand. According to this division one can find eateries, stalls and souvenir shops all of these in this floating market of Pattaya. Wood carvings, handmade clocks and traditional Thai wear are some souvenirs that one can purchase for their family and friends. This place has unbelievable bargains on Thai food and handcrafts.
Pattaya has gorgeous beaches! You can spend your entire morning and evening walking by the beach side and never get bored of the view. If you've come here to unwind, beach side is the place to be!
For all the shopaholics, if you haven't gotten tired of shopping at Bangkok, Pattaya has more to offer. One of the aspects of Pattaya nightlife is shopping! Long stretches of markets, you can spend your entire night doing nothing but shopping! Also, if you are looking to buy gifts for your family/friends, suggest you do it at Pattaya at one of these night markets. A variety of gifting items can be found here at a very reasonable rate.
The 2.4sq.kms of Nong Nooch are full to bursting with some of the most remarkable flowers, displays and landscaped gardens in Thailand, if not the world. The team behind them have repeatedly won international awards for their designs, which include 17th-century-French-style gardens, a recreation of Stonehenge, creative topiary displays and gardens created exclusively with cacti, bonsais and tropical palms. It is also the home of over 670 native and hybrid species of orchid and regular displays of classic Thai dancing, boxing and drumming
There are many activities to perform in Pattaya but the Tiffany's show a popular one. This ladyboy cabaret show is family-friendly show. The 19:30 show is considered the best show of the night. After the show people can also take photos with ladyboys but when some take photos for free there are some who take tips for these photo sessions. These shows are popular because they have great style, energy and fabulous performances.
These are some reasons why one must visit Thailand and Pattaya particularly. Get ready to experience turquoise beaches and to relish great food on your perfect vacation to the stunning city of Thailand.