Travel information
Favourite destinations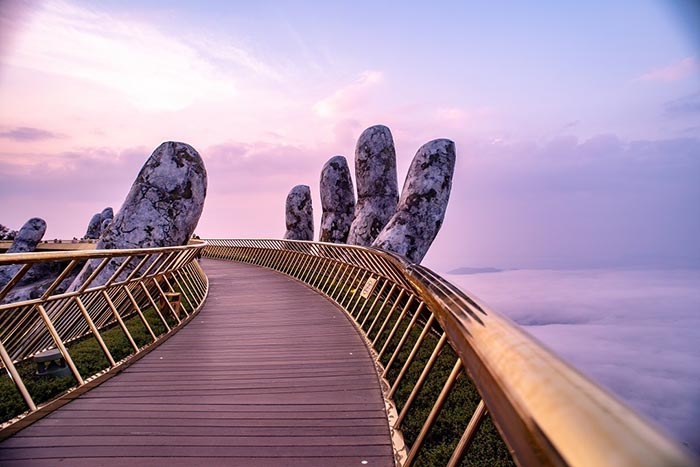 Da Nang
Da Nang - which is known as the cleanest and most livable city in Vietnam, is increasingly attracting tourists by the scenic beauty, cultural heritage, rich cuisine and modern civilized life. A Da Nang journey promises to be an interesting trip for you and your loved ones on a long vacation.
Dubbed as the "City of Bridges", coming to Da Nang, you cannot help but visit and check in famous bridges here such as Dragon Bridge, Song Han Bridge or Love Bridge:
- Dragon Bridge connecting Da Nang airport to My Khe beach and Non Nuoc is an interesting destination for everyone offering a dazzling display of lights, fire, and water at around 21:00 on Saturday, Sunday and New Year holidays that no first-time visitor to Da Nang should miss out.
- Meanwhile, Han River Bridge was built on Bach Dang street as a symbol of the city with shimmering beauty at night. Especially at night, the bridge will rotate 90 degrees around the axis so that large ships can pass back and forth.
- Also located on the Han River Bank, Love Bridge is a very romantic bridge and a check-in point not to be missed for couples because of the red "heart tree" with many love locks such as love bridges in French, German or English.
It takes about 3km from the center of Da Nang city, My Khe beach was voted as the most attractive beach on the planet by American Forbes magazine. The beach attracts tourists by its wild appearance, white sand beaches, gentle waves and fresh air. When coming to Da Nang, you definitely have to come here to experience a sparkling dawn radiating from the horizon as an electric current and immerse yourself in the cool blue water. Besides swimming, you can participate in many exciting sports activities such as: fishing, scuba diving, windsurfing, canoe ...
Son Tra Peninsula is known as the jewel that nature bestowed on Danang. With many famous landmarks such as Linh Ung Pagoda, Ban Co peak, Tien Sa port, and many other attractive destinations, Son Tra Peninsula promises to be an ideal destination, giving visitors interesting experiences such as diving to watch coral, surfing, skydiving ... or going to the mountain to see Voc Cha, the banyan tree for thousands of years old.
If you want a trip to explore nature and marine ecosystems, Cu Lao Cham is the ideal place for you. It consists of eight islets set as an arc, very close together: Hon Lao, Hon Kho Me, Hon Kho Con, Hon Tai, Hon Dai, Hon La, Hon Mo and Hon Ong, serve as a protective barrier for the ancient town and it is the best place for you to enjoy the peaceful beauty, pristine and close nature. Besides, Cu Lao Cham is also famous for its coral diving activities to help visitors explore the seabed at a depth of 4m. If you want to join the coral seeing and diving activity in Cu Lao Cham, please contact Seatrek Vietnam - the only company that organizes the Tour Seatrek in Cu Lao Cham.
When visiting Da Nang, you cannot miss Ba Na Hills - a Elysium resort. Away from the city center with quite natural scenery, visitors will be experienced four seasons in a day and a lot of fascinating entertainment activities, admire the flower gardens with many beautiful and rare flowers and valuable Check-in photos at the Giant Hand Bridge - Emerging symbol of Ba Na Hills. In addition, located at an altitude of 1500m above sea level, when you arrive Ba Na Hills, you will feel like standing on white clouds with dim space and Ancient European style building. You will lose ticket to visit this attraction, so should book the ticket before arrival to avoid waiting.
If you are planning a long-term trip, you can choose to visit Da Nang - Hoi An to explore more ancient destinations and cultural significance of the ancient town of Hoi An. this. The tour Da Nang - Hoi An 4 days 3 nights will take you to the most beautiful sights of the two cities dubbed the heart of the Central.
In addition to many attractive attractions, Da Nang is also a vibrant city because of the system of famous bars and discos so that you can burn your heart out as New Phuong Dong Disco, Sky 36 or F3 Club.
When traveling to Da Nang beach, you can not ignore fresh seafood dishes such as: Squid, snails, shrimp, crabs,… In addition, Da Nang also has a lot of typical dishes as Quang noodles - the most famous dish in Danang, Pork rice paper rolls; pancakes, lemongrass skewer.... The food in Danang has a very specific flavor and very reasonable price.
Some note for your trips:
- The best time to visit this city is from February to May when the weather has become comfortable, less rain and cool.
- Currently, there are many international and domestic flights to Danang with reasonable prices. With a distance of about 30 km from Da Nang, you can easily visit Hoi An by taxi, bus or motorbike.
- As a city with the highest level of safety in Vietnam, you can feel secure when carrying valuable objects along with your trip.
Da Nang in recent years is gradually becoming the country's bright spot in the tourism, attracting millions of visitors each year by its youthful, civilized and modern appearance. Tourists can easily access Da Nang through a diverse flight network from other countries. To find the right fare and travel advice before visiting this worthwhile city, click to BOOK NOW to find your suitable itinerary.