Travel information
Favourite destinations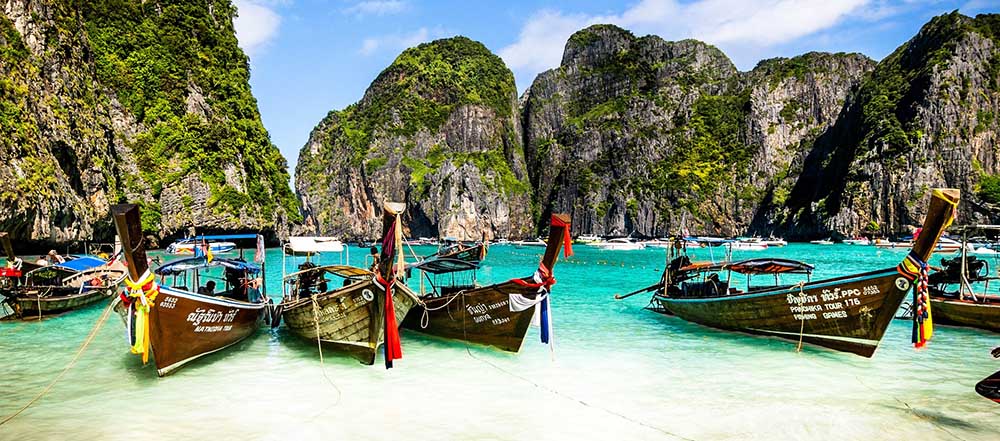 Krabi
Krabi is a beautiful province located in the South of Thailand that anyone who loves this country wants to visit once. "Thailand paradise" always leaves a special impression on any visitor. Those are quiet temples on top of mountains or smooth transparent lakes or pristine islands and top beaches in the world.
There are countless interesting things that you cannot miss when coming to Krabi: Krabi town itself is quite generic, and you'll find many western restaurants, markets and bars. Some areas may be quite crowded, but if you venture further afield, you can uncover many fascinating destinations. In the vicinity, you can visit waterfalls and caves, swim in the blue waters, or simply chill out at a resort. Off the coastline, islands like the popular Koh Lanta and Phi-Phi belong to the Krabi province, as well as the lesser-known Koh Jum. In all, it's an excellent part of Thailand to enjoy a beach stay, with plenty of variety.
Our experts can discuss with you the best options for your holiday. Another one of favorite spots in Krabi is Railay Viewpoint. The view from this point is mind-blowing. You will love the view. To get to this view, you have to do some climbing. Don't try to do it during the rainy season. It becomes very slippery and chances are you can fall down if not careful.
There are few big ropes tied all along the way to help you climb all to the top. To get to this place you have to first catch a boat to the Railay beach which costs you around THB100 for one side. You can get a return ticket from the main counter at the end of the beach. The viewpoint has no entry fees so you don't have to worry about any of that.
Nightlife in Krabi: Along the central street of Ao Nang and even the small alleys here, there are countless cafes, pubs, bars for you to visit at night.
Krabi Walking Street: Held every Friday, Saturday and Sunday from 5 am to 10 pm, this bustling market has more than 70 stalls you can enjoy dining and shopping here. Krabi is a place which will never let you get bored. There are various activities you can do while in India.
The most famous activities you can do here are Snorkeling; Kayaking; Rock Climbing or Visiting an Elephant Sanctuary.
Getting scuba certified is the popular things to do in Koh Tao, Krabi gives you various scuba diving opportunities. There are various dive shops offering different courses and free dive trips. Popular div sites includes Phi Phi Marine National Park, The King Cursive Wreck and The Shark Point Marine Sanctuary.
You can easily book a whole day trip to Krabi with the world's best diving offers here. Ko Lanta Yai is the district of scuba diving. The only thing standing between you and Krabi is a plane ticket and we will help you. What are you waiting for, book a ticket to explore this beautiful city of Krabi now.