Travel information
Favourite destinations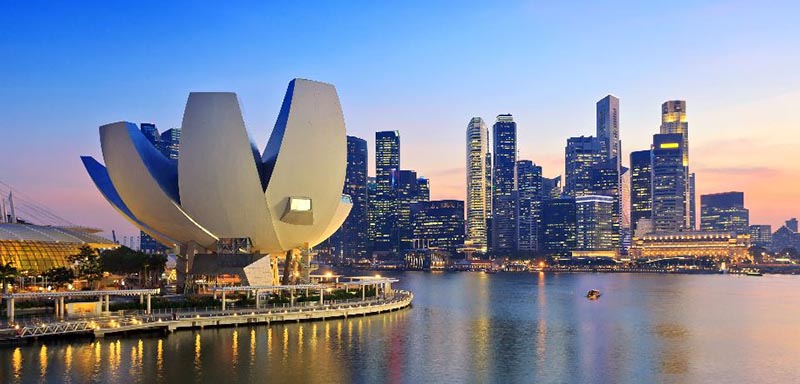 Singapore
Singapore has been in the top ten list of the most visited cities in the world for years. This small yet beautiful island has all to satisfy any need of visitors: green and safe environment, cultural diversity, delicious food, world-class shopping malls, the latest fashion and electronics, vibrant nightlife, cheap and convenient public transport, and many more.

Singapore is a city of many contrasts. It is small in size but big in surprises that are hidden in every nook and cranny. The city attracts the rich to visit yet it is also endearingly claimed as the second home of simpler folks.
Historical shophouses and pre-war buildings stand strong against the backdrop of modern skyscrapers and architectural wonders.
The gustatory delights range from the exquisite creations of classy restaurants to the tasty treats of hawker stalls. Shoppers can splurge on luxurious stuff at high-end shops or haggle for a good bargain at the street markets.
Marina Bay Waterfront Promenade is a 3.5-kilometer along-the-bay walkway that brings people across many attractions at Marina Centre, Collyer Quay, and the Bayfront. The promenade is designed as an environment-friendly recreation area. There are mist sprays to relieve guests from the blazing Singapore heat; breeze shelters with motion sensor fans to provide visitors with a cool stop from a tour walking around the bay.
Singapore's Marina Bay is a real beauty of nature, adorned with the most glitzy skyscrapers and unique architectural buildings. The promenade is there to give locals and tourists an up-close view of the bay.
A walk along Orchard is a chance to know how glitzy and glamorous Singapore is. A lot of creativity and love were put into decorations and lighting to make the place sparkling. There is a bevy of shopping malls and retail shops on Orchard Road and an entire day is not enough to explore them all!

We'd like to suggest you that a bumboat ride down Singapore River is the cheapest and fastest way to see the stunning sights of downtown Singapore. You can relax at the boat deck and enjoy the breeze as the boat chugs along the river or you can go in the late afternoon to catch the sunset and get the best of day and night views of the waterfront. A nighttime bumboat trip is a great chance to enjoy the light show at Marina Bay from a different yet amazing angle.