Travel information
Favourite destinations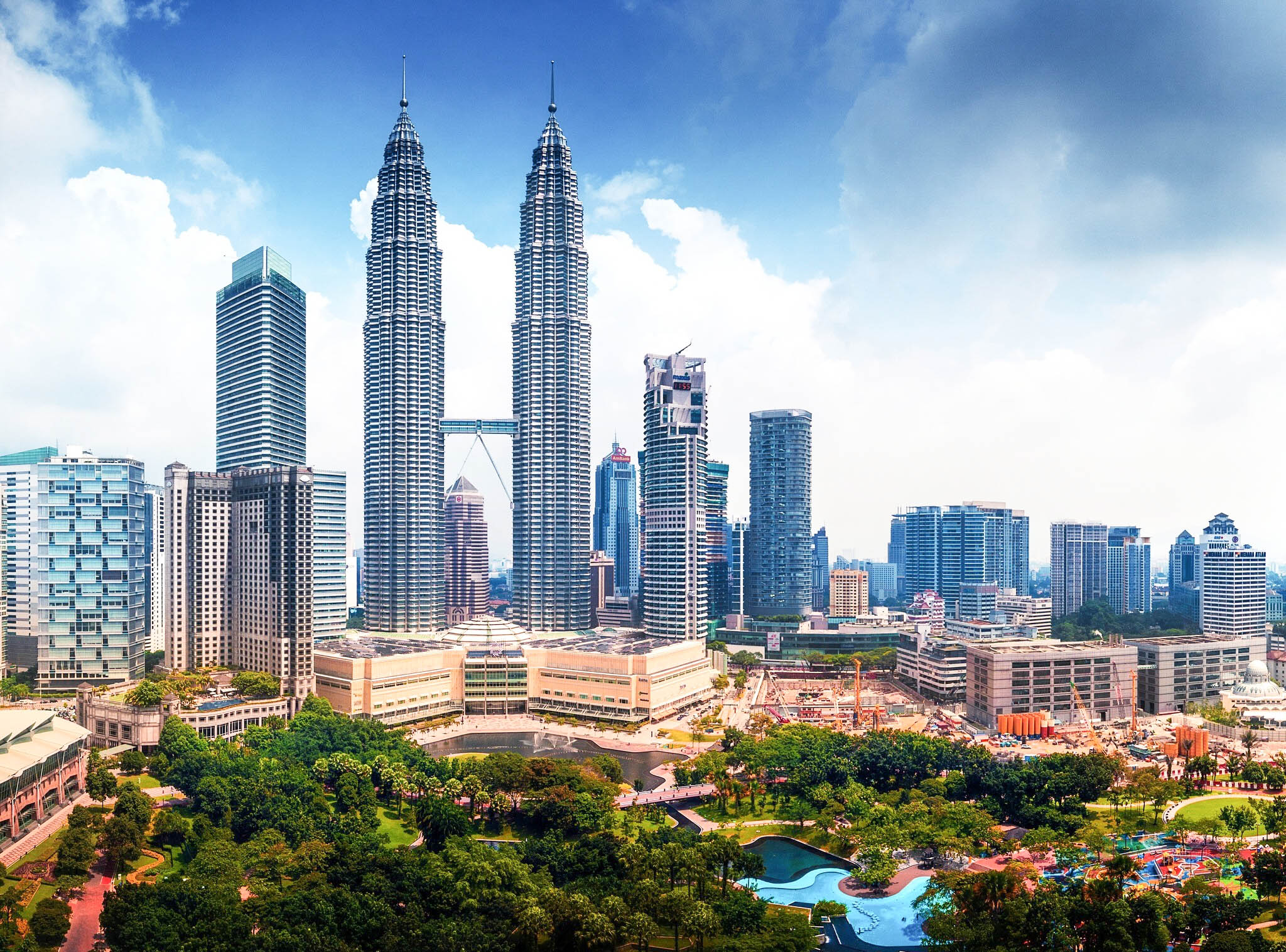 Kuala Lumpur
There is a lot to love about Kuala Lumpur, a modern and exotic capital city of Malaysia. Many people visit this magnificent city because they are pulled by its lifestyle, fabulous shopping, world-class cuisine, pristine beaches, flourishing economy, sound education, and pulsating nightlife. The city remains a hidden treasure for many travellers and holidaymakers. The city is steeped in history and blessed with rich natural beauty. The number of attractions in Kuala Lumpur is remarkable; the great quantity of activities is absolutely amazing.
Kuala Lumpur offers unparalleled opportunities to relax and recharge in a luxury way. Here are reasons why you should visit Kuala Lumpur right now:
One of the reasons to visit Kuala Lumpur is the architecture. When you picture Kuala Lumpur, the city skyline is probably one of the first images that spring to mind. Amongst the skyscrapers, one sight that immediately draws the eye is the KL Tower. The KL Tower is the seventh tallest telecommunications tower in the world, standing at an impressive 421 metres. If you like your dinner with a view, then you won't want to miss out on enjoying a meal while you are at the KL Tower. The Atmosphere 360 restaurant offers some fantastic views; in fact, this revolving restaurant is located 282 metres above the city.
If you love the sharks, you will love to visit the Aquaria KLCC located at the basement of KL Conventional Centre. The Aquarium is reputed to be the largest aquarium on the world, you will find about 150 species of fishes here. For a memorable experience, walk through the 90m long tunnel while you watch the fish feeding session.
One of the many things that set Kuala Lumpur apart from other cities is that it has its own piece of rainforest. The KL Forest Eco Park can be found in the Bukit Nanas Forest Reserve and offers a perfect opportunity to escape the hustle and bustle of the city and enjoy being close to nature. The Eco Park features a canopy walk across hanging bridges, and if you are lucky, you may spot some of the wildlife that lives here. The Perdana Botanical Garden is another green oasis in the city and one of many great reasons to visit Kuala Lumpur. Spanning an incredible 220 acres, this is a garden that offers plenty of opportunities to spend some time away from the busyness of the city and relax. As you explore the Botanical Gardens, you will find a range of sculptures dotted around, which add some extra interest to this tranquil spot.
Kuala Lumpur is a city that never sleeps; always lively. The city throbs with its numerous fascinating night spots from pubs, discos, dance clubs, jazz bars and karaoke lounges. After the sun had gone down, the city rocks to the rhythms of the nightspots. A popular place to visit is Bangsar, the city's heartbeat when it comes to nightlife. Bangsar is located in the environs of KL and if you love having fun and socializing, there are a whole selection of night spots waiting for you.
Whether you're habitually thrifty or on a treat splurge, most of the things in Kuala Lumpur are reasonably affordable. From the fancy restaurants and flagship luxury stores in Bukit Bintang to the food courts and small stalls on the roadsides of Petaling Street, anyone at any budget can enjoy a nice day out shopping and eating to their hearts' content.
Kuala Lumpur is the best place to indulge in the finest culinary delights. You will find a mix of several Malay dishes and other cuisine such as Chinese and Indian dishes. You can relish everything from native to gourmet and intercontinental dishes. Malay dishes are characterized by spicy and intensely curried ingredients, and sweet-smelling aromas. The Malay favourite food is known as Sambal, which is made up of prawn paste, lime juice and a hot paste of pounded chillies. Sambal is usually eaten with rice and It's really tasty! There are several restaurants in the city, where you can enjoy these foods with sweet-smelling aromas and delicious tastes.
Kuala Lumpur offers everything under its skies to everyone who would love to visit. There are lots of things to see and do, visitors will surely have a great and fun-filled vacation and experience in the city. Why don't you start planning your trip now?