Travel information
Favourite destinations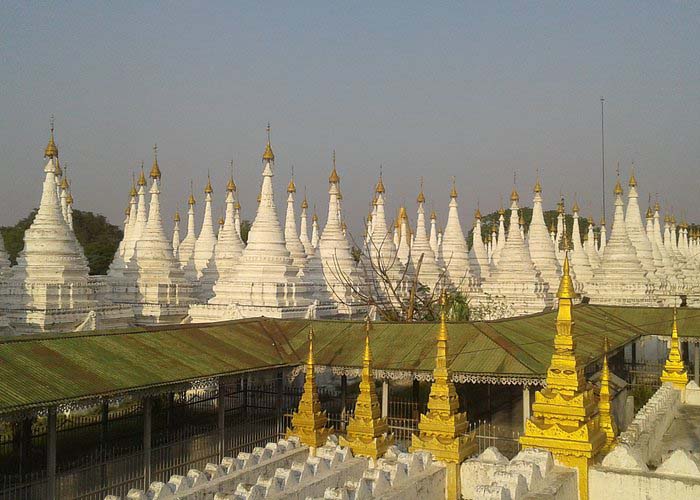 Mandalay
Mandalay, the former royal capital of Myanmar. The city is big, busy and somehow has its charm. Mandalay is a great 2-day stop on your Myanmar Route. Admire its unique architecture and pagoda's or visit the world-famous U-Bein Bridge. Read about the things to do in Mandalay.
Mandalay and the surrounding towns are known for the hundreds of pagodas and monasteries found in the area. A few we recommend you visit would be Mahamuni Buddha Pagoda, Kuthodaw Pagoda and the Mandalay Palace. A trip to Myanmar wouldn't be complete with out checking out a pagoda or two (or ten).
You can also see the worlds longest teak bridge Over two centuries old, the world's longest teak bridge spans Taungthaman Lake in Mandalay's Amarapura township. U Bein bridge is 1.2 km long. We highly recommend you check it out during sunset to get the best photos.
Mandalay Hill is a must-do, this 240-meter high hill gives you an incredible view of the whole area. Getting up there is easier than you would expect, they build an elevator and escalator on the foot of the highest of the temple. Note to cover yourself and take off your shoes. The entrance fee to Mandalay Hill is K1000. ($0.75). Don't be surprised when Myanmese people ask you to take a photo with you. They just want to show this to their relatives.
Near to the Mingun Pagoda is the beautiful white Hsinbyume Pagoda. You can walk up the stairs and explore every level of the pagoda. The Pagoda is not big shouldn't be missed while visiting Mandalay. This is one of the reasons why you must visit Myanmar.
One of the main attractions of Mandalay is the U-Bein Bridge. The 1200 meter long wooden footbridge is known as the longest in the world. When visiting in February there was almost no water under the bridge so doing a boat tour is definitely not recommended. From Mandalay, it is a small 20-min drive to U-Bein Bridge. Arrive two hours before sunset, see how the locals are relaxing here.
Tourism is slowly yet surely developing in Myanmar, so travelers will want to get there, and fast, before the country loses some of its authenticity to prepare for incoming visitors. Already the country can be seen tailoring to its foreign customers and the country is even aiming to have 7.5 million visitors by 2020.
yanmar is safe in places where foreigners are allowed to visit, with extremely low incidents of crime. However, when using hotel safes for your valuables, you still need to observe the necessary precautions. You may sometimes come across some people trying to persuade you to buy things, but most people approaching you are simply taking the chance to practice their English.